Gutter & Drainage Products
Rainwater
•  Heritage PVC range provides a cast iron look without the inhibitive cost of materials and installation
•  Prostyle has the ability to handle large house's whilst being small enough to suit conservatories and bungalows
•  Domestic Roundstyle and Modern Squarestyle has been designed for fast, efficient and simple installation – with the installer in mind
•  High capacity and industrial rainwater systems. Produced for ease of installation and can provide significant savings on large roof areas
•  Extensive range of downpipes and fittings, all in high-quality PVC
Soil & Waste
•  Available in various colours and sizes in both solvent weld or push-fit
•  Complies with BS 4514 and BS 5255
Underground Civils
•  NEW 315mm, multi-inlet shallow access chamber
•  A comprehensive range of pipes, gullys, access bends and branches complying with relevant BS EN standards – get in touch for more info
•  Ultra-rib is lightweight with higher stiffness for easier installation, with excellent flow and self-cleansing characteristics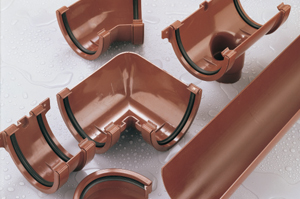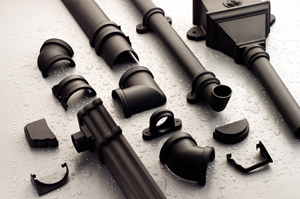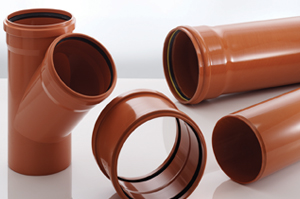 Flashings & Fabrication
Designed to enhance the aesthetic look of your buildings. Our flashings are fabricated in 3m length with a .7mm material as standard.
Various finishes are available: Plastisol, Polyester, PVF2 & Galvanised – Powder coating now available
Coloured flashings can be supplied in lengths up to 6 metres subject to detail
Galvanised flashings up to 2mm thickness and Aluminium flashings up to 3mm are standard
Insulated and uninsulated steel gutters available to order
Manufactured to your design, all traditional profiles available: Ridge, Corner, Eave & Drip Barge
To order please complete and return our Flashing Pad order form.
Roof lights
We supply a full range of GRP roof lights to provide daylight to any commercial, industrial or agricultural building. Heavy duty GRP roof lights to suit 1000/32, 1000/34 and 1000/20 box profile in 2m, 2.5m, 3.0m and 4m lengths.  Other lengths are available by request.
Twin and triple skin roof lights to fit the range of composite panels. Complying with all current building regulations.
Profiled GRP roof lights to match box-profile sheeting in 1000/34 and 1000/20 profiles.
For use in either single skin or built up constructions. Roof lights for refurbishment/replacement or new build:
Whatever the profile, we can supply roof lights to match.
Big 6 roof lights available ex-stock at highly competitive rates.
Gutters
We stock 160mm half round plastic gutters, 110mm down pipes and all accessories in grey and black.
We manufacture pre-finished metal gutters in your design in lengths up to 6m.
Grid & spacer systems
The Spacer system provides improved strength and stability, together with savings in labour costs.
Fixings & Purlins
Metal purlins available to suit your needs on request.
We are able to supply the relevant fixings whether you are fixing to timber or metal purlins.